Are you down, in pain, feeling the loss of joy and wondering "How can Art Therapy help someone like me?" Or, "I can't draw, why should I even try, when I am dealing with serious issues and painful feelings?
When your feelings are too deep for words alone, being able to express them through some kind of art-making in the presence of a gentle art therapist can allow your feelings to surface more easily.
I can show you how you really can heal through art therapy – by creating or finding images and pictures to express feelings, explore issues, dreams, fears and hopes, and then develop coping skills.
Are you tired of being sad? You will find relief in scribbling out your pain. Perhaps your dreams have turned into nightmares, and you are looking for relief. Drawing a dream and looking at it, or talking to the images in it, will help you work through those tough issues.
Have you been angry more lately? Sometimes just squeezing clay in your hand can tame your anger or lesson your anxieties. The creative process does heal!
Are you grieving, numb, feeling the loss of a loved one? Layering colors of tissue paper will help express the many 'layers of grief'.
Are you going through life changes, either planned or unexpected? Perhaps you are divorcing, moving, facing employing problems, or trying to help a troubled child. I can help you find direction, using both talk and specific art experiences that I have been trained in.
Art Therapy is a Masters level profession in which clients, with the help of a trained art therapist, use art materials to help them process their struggles. Art therapy is a Masters level field of psychotherapy that recognizes that our unconscious, as naturally found in our images and dreams, can be expressed more easily in pictures than in words, alone. Some form of art-making in therapy, such as simply just putting marks on paper with crayons, gives our feelings a concrete form. These drawings of your feelings can then be safely looked at from a distance. As an Art therapist, I am trained to know what art materials might be appropriate for you, and how to ask you express your feelings through art-making.
I am passionate about art therapy, and how the creative process can give you a new lease on life. I am wholistic in my beliefs and approach–I strongly believe in helping you heal your mind, your soul, your spirit, and even your body.
Art therapy helps you reclaim the pieces of your life.
It takes courage to face yourself. I will be there to help you work through the surprising or deep feelings and issues may appear. You have an inner wisdom, and your psyche knows what it needs to express. It may be painful to stay in the moment. As your therapist, I will be there with you. There is no judging.
I will make it safe for you to begin your journey. Whether you choose talk alone, pencils, paint, clay, or work in the sand, there is no wrong way to do this. Together, we can step back now, to look at your work from a distance. What does it say? How does it make you feel? If your image is disturbing, as your therapist, I can hold the tension until you are ready to explore it.
"Often the hands will solve a mystery that the intellect has struggled with in vain." CJ Jung
What is an Art Therapy Session like?
In Adult Art Therapy, we may first talk for part or even all of your session. As we get to know each other, and as you see that there is really no wrong way, I may ask you to do some drawings. For example, I may invite you to 'put some marks on paper' to show what your feelings look like. Sometimes, just drawing a series of scribbles helps us 'see' what your issues may be. If you are in pain, and don't know where to start, I may ask you to draw your family. Sometimes, drawing your biggest problem, or anything else you would like brings immediate relief. We can then look at the drawing together, and wonder about it, silently or by talking about it. Or, I may invite you to paint, draw a dream, or draw what it felt like before/after a particular incident. Finding magazine pictures and words in my box of images may help. When you glue them on a piece of paper and look at them you will be surprised at how perfectly they express what is on your mind! My clients are usually amazed at how relieved they feel after expressing themselves, and at what they learn about themselves! Together, we can then focus silently or verbally on what you have created.
Teens enjoy the non-verbal aspects of creating art or doing a sand tray. Adolescents are especially creative! Each teen is unique, and will express him or herself quite differently. They may draw, paint, make sand trays, paint masks of their inner and outer selves, mandalas, clay images or simply choose to talk. There are no judgments.  Click here to learn more about Adolescent Therapy.
Children take naturally to art therapy! Because I know how precious a child is, and how helpless you may feel when your child is grieving, acting out, or having social problems, I will do a child art therapy assessment with different topics and art materials. Click here to learn more about child therapy.
Family Art Therapy allows the whole family to see each other differently. I may do a Family Art Therapy Assessment, or ask each member to chose pictures that remind them of their family.
What is Sand Tray Therapy?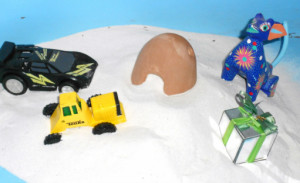 Sand tray therapy is the process of choosing objects and placing them in a regulation-sized sand tray (about 24×30″). Sandtray is therapy based on the principles of Jungian psychology.  By using sand and miniature figures, a three-dimensional world is created.  Each object is a symbolic representation of archetypal energy in our unconscious.  You don't have to know what the sandtray symbols mean.  But, as you create your tray, the depths of your soul becomes conscious, and unconscious conflicts move from the inner world to the outer world and are made visible. I have shelves of a few hundred figures (trees, flowers, houses, furniture, people, gods and goddesses, cars, planes, religious figures, domestic and wild animals, rocks and shells.) The personal "world" you create facilitates your healing journey.  As your therapist, I offer a "free and protected space" for you, where words and interpretations may not be necessary.   In sand tray work, as in art therapy, one expresses through the act of doing, which, in itself, fosters a growing sense of creativity. This strengthens the ego, and helps improve the person's self-image and self-confidence.
 Adults, adolescents, and children enjoy sandtray therapy. Adults enjoy that the many images ("sand toys") are already there, on the shelves and are often awed at the feelings and insights evoked. The tray can be wet or dry. . Children play out scenes and stories in the sand, gaining personal control. They may recreate their home or school, or show a problem they are having.  Sometimes, younger children will bury and then find marbles and other toys, or play "war" games to reclaim their own sense of power in the world. Teens enjoy the creativity and the inherent permission to not have to explain themselves.  They often use rocks, crystals, or images symbolic to their struggles. 
Call me, Claudia Trevithick at 720-242-9241 for a free initial 20 minute phone consult or just call me to set up an appointment.