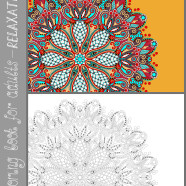 THE TOP 5 REASONS TO BECOME AN ADULT COLORING BOOK ARTIST
What is this new  adult coloring book craze?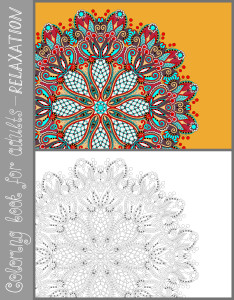 No doubt you have heard of this. You may even be indulging yourself already! I mentioned the "craze" to my neighbor and she told me she's been coloring in her coloring books for months. Who knew!
It's time to BRING COLORING OUT OF THE CLOSET.
TOP 5 REASONS TO BECOME AN ADULT COLORING BOOK ARTIST!!!!
Coloring books are meditative. When we meditate, we center ourselves, stay in the moment, slow our heart rate and breathing and relax. We begin to heal our stress.
When we color, we become instant artists. We allow ourselves to choose colors, create patterns, create. We can please only ourselves! No judges. Our self-esteem grows.

We engage both sides of our brains.

The

Left

side makes choices – do we want this page or that page, what color shall I select, where shall I make my mark, do I want to use crayons or markers or pencils or water colors? The Right side of the

brain

colors and

creates and plays!

As we make marks, we de-stress and relax. Ahh, no longer thinking about this busy day. That is the 'Power of Now', as Eckhart Tolle says. Our anxieties float away.

It reminds us of our childhood.

It was safe, let alone expected, to stay within the lines. We could also scribble outside the lines! We could sit on our beds, at our tables, and get lost in our own little worlds. Now, we can do it while watching TV or we can unplug. We can sit at the kitchen table or on our beds.

We can even color with our kids!
Personally, I recommend coloring books of Mandalas. Mandalas are 'sacred circles', and represent our 'center' or Self. Mandalas were first publicized by the psychotherapist Carl Jung, who realized that drawing within a circle was healing, allowing our psyches to express whatever is needed.
For that reason, I tell future coloring book artists to look for Mandala coloring books. They are filled with beautifully patterned mandalas that just call for you to fill with them with your colors. You can find them on Amazon.com or your local bookstore. Colorama.com also sells them.  I just saw coloring books co-authored by Louise Hay! Each page has an affirmation. What a great way to spend an hour – color and raise yours self-esteem with a Louise Hay affirmation!
You can choose colored pencils, markers, an old fashioned box of Crayola crayons, or even water colors.
The next step, if you are willing, is to trace around a dinner plate, and fill your mandala with your

own

design. They can be abstract, or they can contain flowers, or people, or whatever your heart desires. And then you can begin your very own art journal. In it you can stencil, stamp, write, paste, paint -and create to your heart's content.
I'd love to hear about your own experiences.  (Scroll down for a beautiful butterfly to color.)